KD Awareness Advocates: Mckenzie Graham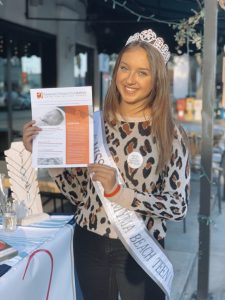 In the Fall of 2019, the Foundation was approached by Mckenzie Graham and her mother who expressed interest in contributing to KD awareness. Mckenzie's younger sister, Savannah, was diagnosed with Kawasaki disease at the age of three. Savannah was misdiagnosed three times and was diagnosed and treated for KD after her mother researched her symptoms online and asked her doctors to consider a Kawasaki disease diagnosis and treatment. McKenzie is a high school student raising KD awareness in her community via her participation in the competition for Miss Florida Teen USA, representing her hometown of New Smyrna Beach. Learn more about this amazing teen's efforts to raise KD awareness via the Q&A below.
How old was your sister when she was diagnosed with KD? What do you remember about the diagnosis, or what do your parents/guardians remember about the diagnosis?
My younger sister, Savannah, was diagnosed with Kawasaki disease at the age of 3. Savannah was sick for approximately a week and was misdiagnosed three times before my mom conducted research and discovered she displayed symptoms of KD. Savannah was diagnosed and treated for Kawasaki at Halifax Hospital in Daytona Beach, Florida.
Does your sister have any long term effects/heart damage from KD?
Ever since she was diagnosed, Savannah has accumulated several allergies, reactive hypoglycemia, peeling feet, she produces a lot of body heat (but no fever). She seems to be more prone to illness. However, she has no lasting known heart effects from KD.
How did KD impact/change your and your sister's life (if at all), and why?
After watching my sister go through intense IVIG therapy and high dose Aspirin therapy at the age of 3, we as a family are more conscious about what we eat, the medicines we are prescribed, and environmental pathogens. Savannah has grown into a stronger person, more in tune with her body, and immediately informs us if she has a strange system.
Why do you want to raise KD awareness?
My family and I want to raise awareness for Kawasaki disease because Savannah was misdiagnosed three times during the week of her illness. We ended up having to research on our own and begged the doctors to test for it. Even after the diagnosis, none of the local doctors were familiar with the current treatment protocols for the disease. We are afraid that others are possibly being misdiagnosed with symptoms of Kawasaki disease in our community.
What is your goal when raising KD awareness?
My goal is to educate families about the symptoms of KD and even reach out to healthcare professionals to disseminate current KD research developments.
What would you say to a parent/guardian currently going through a KD diagnosis for their child?
I would tell families currently experiencing a KD diagnosis, to be diligent about the healthcare their child is receiving and to not be afraid to question something when it doesn't feel right. My mom had a gut feeling when my sister was misdiagnosed three times and that gut feeling likely saved Savannah's life.
What events are you hosting/participating in for KD awareness?
We are setting up booths at our local street festivals and upcoming holiday family events that reach thousands of people.
What do you do for work or school?
I am currently 15 and a dual-enrolled honors student. I will be competing in Miss Florida Teen USA, representing my hometown of New Smyrna Beach, and I plan to use this platform to spread KD awareness.
What are your hobbies?
My hobbies include golf, dance, and spending time with my family. Savannah is my best friend and the sweetest girl I know, and I could never imagine my life without her!
Anything else you would like to add:
Thank you for this opportunity to work with your foundation and to be featured in the newsletter. I look forward to speaking with you soon! I will send you updates and pictures from our upcoming events.