The Venice 6 – Event Recap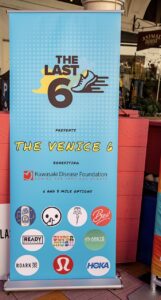 The Venice 6 fundraising event held on Sunday, November 13, 2022, at Venice Beach, CA, benefitting the Kawasaki Disease Foundation, was super fun for all those who attended and had a fantastic turnout. The event was hosted by The Last 6 Miles, an organization that educates and funds research for Kawasaki disease and supports every person facing unique challenges in life. Matthew Abrams and Stephanie Karzon Abrams created the organization to support co-founder Matt, who fell 6 miles short of finishing the 2020 LA Marathon due to KD-related cardiac complications.
With over 50 donors and about 40 runners, $4,500.00 were raised for the KDF!
Sponsors included: Bev, Lululemon, HOKA, Electric and Rose, Roark, Areté Adaptogens, Ready Nutrition, Supermush, Ape Beverages, HIYO, Public Secret, Paradiso Crossfit, Movement Co, and Coach Evan Cudworth.
Sponsors and volunteers helped put together raffle prize packs and gift bags for all the runners. Hoka Shoes had a booth set up with demo shoes for runners. Snacks, pre-run supplements, and an assortment of beverages for everyone to enjoy were provided, as well as music for a post-run gathering.
The event was hosted with support from Bev, an awesome women-owned wine company in the heart of Venice, with an excellent and colorful event space (www.drinkbev.com).