Kawasaki Kid Hero Stories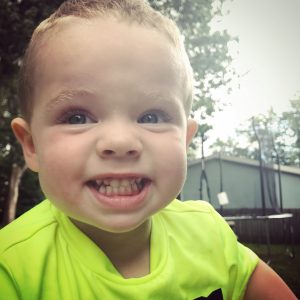 My son, Kase, was diagnosed with KD when he was only 11 months old. We live in Spencer, Iowa, which is a small town in northwest Iowa. After battling high fevers, whole body rash, reddened eyes and general lethargy, swelling of hands and feet follow by a misdiagnosis of Hand, Foot Mouth Disease, finally desquamation of hands and feet over two weeks after onset of his symptoms, along with the abnormal blood work, it led us to the diagnosis of Kawasaki Disease by the family doctor.
My doctor had only seen one case of KD in his career, and our closest cardiologist is two hours away. We had to wait another week before seeing the cardiologist, which was almost three weeks after his initial onset of symptoms. His first echo showed dilation of his left coronary artery, so he was started on aspirin therapy for two months. After two months, they repeated his echo, which showed no change, so we stopped aspirin and we just had a repeat echo this past spring, and it showed very minimal dilation, and we were discharged from the cardiologist. I'm beyond grateful that his heart damage was minimal, and that today he is mostly a healthy and happy two-year-old boy!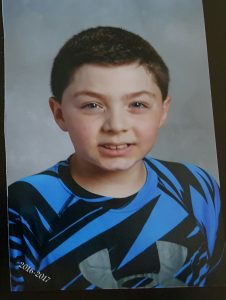 On August 16th, 2005, my son, Connor, was finally diagnosed with Kawasaki Disease after a three week battle of constant 104.5 fevers. We were finally sent to Children's Hospital of Wisconsin and within hours, Connor was given an echo and a diagnosis of Kawasaki Disease with multiple giant coronary aneurysms. As a receptionist in a medical clinic, I knew all about the medical terms that were thrown at us the next 11 days of our hospital stay. Every day he could have a heart attack, but through love, support, and a great doctor and nurse at Children's, Connor is still going strong. We dealt with a leg fracture the summer before kindergarten, and in November of 2015, a brain bleed. We can never thank our family and friends enough for all love and support through the years. Many kids like Connor are lucky – early diagnosis and NO heart involvement, but many have heart issues and some don't make it, but the word needs to spread on getting these kids diagnosed quickly.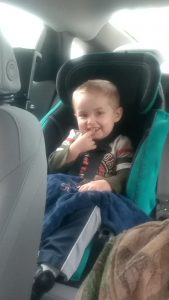 When my son, Cayden, was 3 months when he broke out in a rash, red eyes and peeling skin. I was but brought him to the doctor and they told me it was Hand, Foot, and Mouth Disease. I was sent home and realized it was not getting any better, and at that he was getting high fevers. I brought him to St. Louis Cardinal Glennon, where they kept us for 10 days watching him. Finally, a heart specialist came in and explained he had Kawasaki Disease. We were shocked, not ever hearing what KD was, and so he told us everything that can happen and the medicines to treat it. Cayden received his first IVIG medicine and went home after it all cleared up, and he was back to his normal self. After a week at being home, we noticed all the symptoms coming back, so we rushed him back to the hospital and they told us it had come back, so they tried IVIG again, and once again he was cleared and sent home. Another week passed, and we noticed when we laid him down on his back his arm would turn white and when we held him he was fine, so we rushed him back to the ER and they did scans and tests and told us he had Kawasaki Disease for the 3rd time, but this time they noticed he had an aneurysm in his armpit that was cutting off his circulation.
After a few weeks in Cardinal Glennon, and a lot of surgeries on his arm we were sent home. We arrived home had a very happy child, until once again for the 4th time Cayden got all the symptoms back, and at this, the doctors and nurses were all speechless not understanding how my child had this disease 4 different times. Cayden from that point has a lot of heart tests and CT scans, and we have to give him a shot every day of blood thinners because he now has 7 aneurysms that the doctors are watching very closely.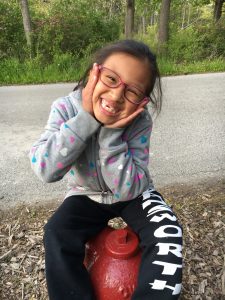 I remember June 20, 2014 like it was yesterday. It was a sunny Friday afternoon, two weeks after my oldest daughter, Alina, turned 5. I had just picked up my two daughters from the Montessori school where I was notified that Alina was running a fever. On top of that, her teacher noticed a large bump on the right side of her neck. Not knowing what it could be, I immediately took Alina to urgent care, where I was told it was an infection and sent home with antibiotics. Over the next 48 hours we alternated Motrin and Tylenol to keep her fever down, but it still remained high. By Sunday afternoon our daughter was rolled up in a ball on our bed, complaining of pain all over her body. The bump on her neck, now the size of a golf ball, had not gone away and the antibiotics did not seem to be working.
It was at that point we decided to take her to Lurie Children's Hospital in Chicago. Once we arrived at the emergency room, the staff immediately checked us in. They asked us a series of questions while they monitored Alina's condition. By the evening her condition did not improve, so they admitted her into the hospital. Once they transferred us upstairs and we had settled into her room, it was a constant flurry of doctors and nurses in and out of Alina's room. We were not told of any potential diagnosis, so we were always fearful of what we would hear. Not knowing what Alina had was eating away at us, so my husband decided to Google her symptoms and came across Kawasaki Disease. He was home with my younger daughter at the time that he did the search, but told me to ask the doctors about this possibility. After reading the articles he sent me, I thought there was no possible way my little girl had this rare disease, but a couple of days into being at the hospital I decided it wouldn't hurt to ask. It was then that the doctors told me they were indeed observing Alina for KD, but they didn't want to say anything too prematurely. I also found out that Lurie's has a dedicated team of KD doctors and nurses who have been studying the disease and were well familiar with the signs of KD. Since there is no test to identify KD, there are symptoms that need to be identified in order to be diagnosed with and treated for KD. By day 5 Alina had all of the symptoms: fever, rash on the hands and feet, red eyes, swollen feet, the "strawberry" tongue, and the swollen lymph node. We were told that we were lucky to have brought her in early enough to monitor and treat the symptoms in time. After the 5th day (at which point they can begin treatment), Alina was given intravenous immunoglobulin (IVIG). Almost within hours of the administration of IVIG, we could see a dramatic difference in Alina's behavior and the symptoms begin to subside. On the 6th day Alina was finally symptom free and we were free to go home.
The days and weeks following our KD experience were nerve wracking – as part of her treatment Alina was on aspirin for a short while after being discharged. We were always on edge, watching her every move to make sure she was on the right track to recovery. Alina would get tired easily and it took months for her to fully recover and get back to her old self. We had a number of follow-up visits throughout the year to check her heart and monitor progress, but thank God there was no long-term damage.
We just recently passed the third year of Alina's diagnosis. Every year around this time we take a few minutes to pause and reflect how lucky we are to have Alina healthy despite all that she went through. We are so thankful to the staff at Lurie Children's Hospital for being so vigilant and taking such good care of Alina. We are also so fortunate to have a daughter like Alina, who through all of the poking, prodding and countless visits from doctors, residents and nurses always had a smile on her face and strength in her heart.
Share Your Story
Have you been affected by Kawasaki Disease?  Wheather you are a parent, a grandparent, or a medical professional, we want to hear your story.  The more we the share, the more awareness we create about Kawasaki Disease.  And maybe save a heart.