Dear KD Families,
It's with a heavy heart that we share news of the passing of Donna Collins after a long battle with cancer. For those of you who didn't know Donna, it's our honor to share a little about her and how she tirelessly advocated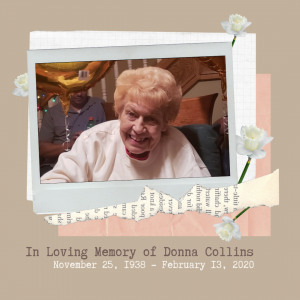 for families of children affected by Kawasaki Disease.
We first became connected with Donna after hearing about a book that she authored, On the Wings of Love, a tribute to her grandson who was lost to complications from KD. It's a very touching and personal account of her family's experience that reminds us of the fragility of life.
Donna was a tough lady—persistent yet graceful in pushing us all forward in the battle to increase awareness and connect families. She led the presentation of one of KDF's earliest education awareness events, a collaboration with Cardinal Glennon Children's Hospital in St. Louis, MO. It brought together families from around the country and KD experts from around the world. Donna didn't stop there. She traveled across the US with her adoring supportive husband, Paul, spreading the word. She would meet anyone who wanted to hear her story so that another family would not experience the same tragedy as hers.
When Donna's travel became less frequent, she didn't quit fighting. She was a long-time support volunteer for KDF. She would take calls when parents were faced with the most terrifying moments after hearing their child was diagnosed with KD. Donna would go above and beyond the call of duty by staying connected with those families well beyond that initial call so she could support them on their KD journey. She would often step in to help manage the support network to make sure families would always have someone to contact in their time of need.
Donna, we will miss your spirit, impact and leadership.
With love,
The Kawasaki Disease Foundation