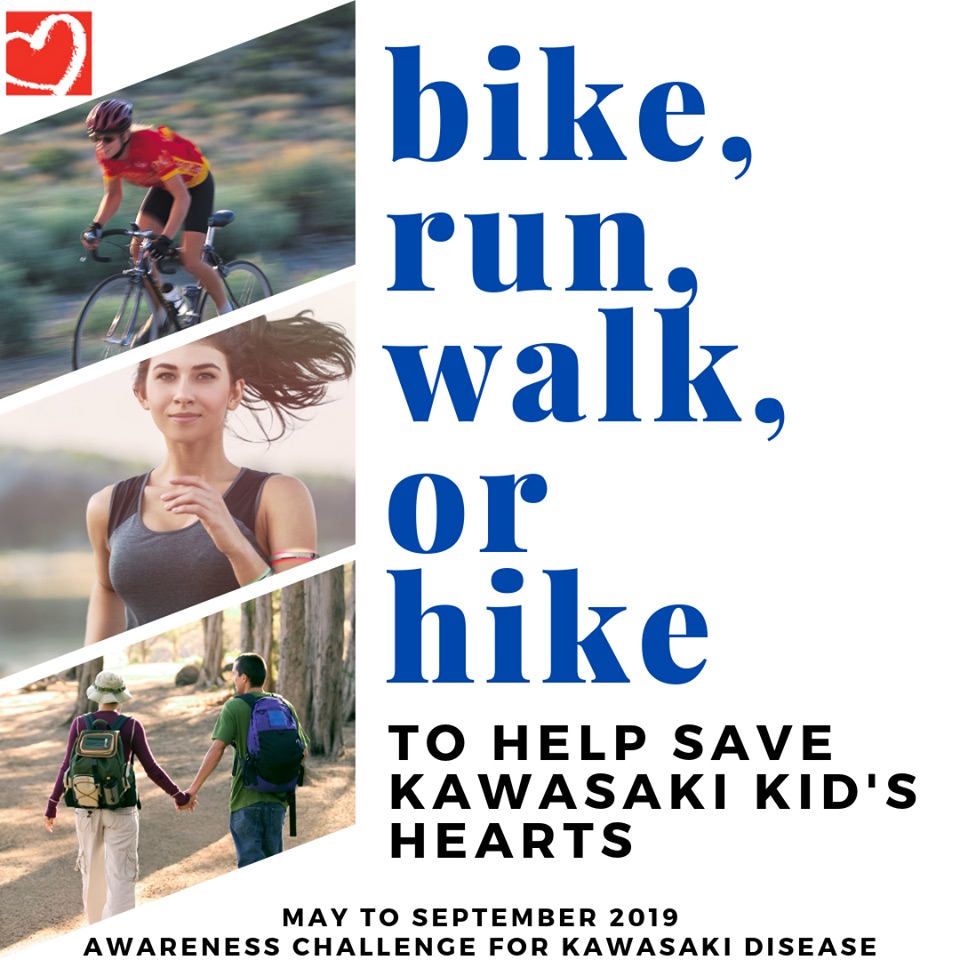 Raising Awareness For Kawasaki Disease
What Is Kawasaki Disease?
Kawasaki Disease (KD), also known as Kawasaki syndrome, is a severe illness characterized by inflammation of blood vessels throughout the body that primarily affects young children and infants. Kawasaki disease is the leading cause of acquired heart disease in children.
The cause of KD is unknown. There is no specific test for Kawasaki Disease; doctors make a clinical diagnosis based on a collection of symptoms and physical findings. It is estimated that more than 4,200 children are diagnosed with Kawasaki Disease in the U.S. each year.
---
Do You Know The Symptoms Of KD?
If your child has had a fever for at least five days, together with two or more of the symptoms listed below, ask your doctor whether he or she could have Kawasaki disease:
Prolonged Fever
Bloodshot Eyes
Rash
Strawberry Tongue and Red/Cracked Lips
Swollen Lymph Nodes In Neck
Red or Pealing Palms/Soles and Swollen Hands/Feet
---
If left unrecognized and untreated, Kawasaki Disease could cause serious damage to the heart. Highly effective treatment for Kawasaki disease is available. To reduce the risk of coronary artery complications, treatment for KD should start within 10 days of the onset of symptoms.
---
Help Raise Awareness
Challenge Yourself To Ride, Run Or Hike To Help Save Kawasaki Kid's Hearts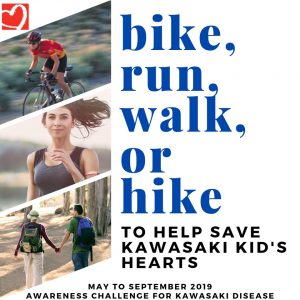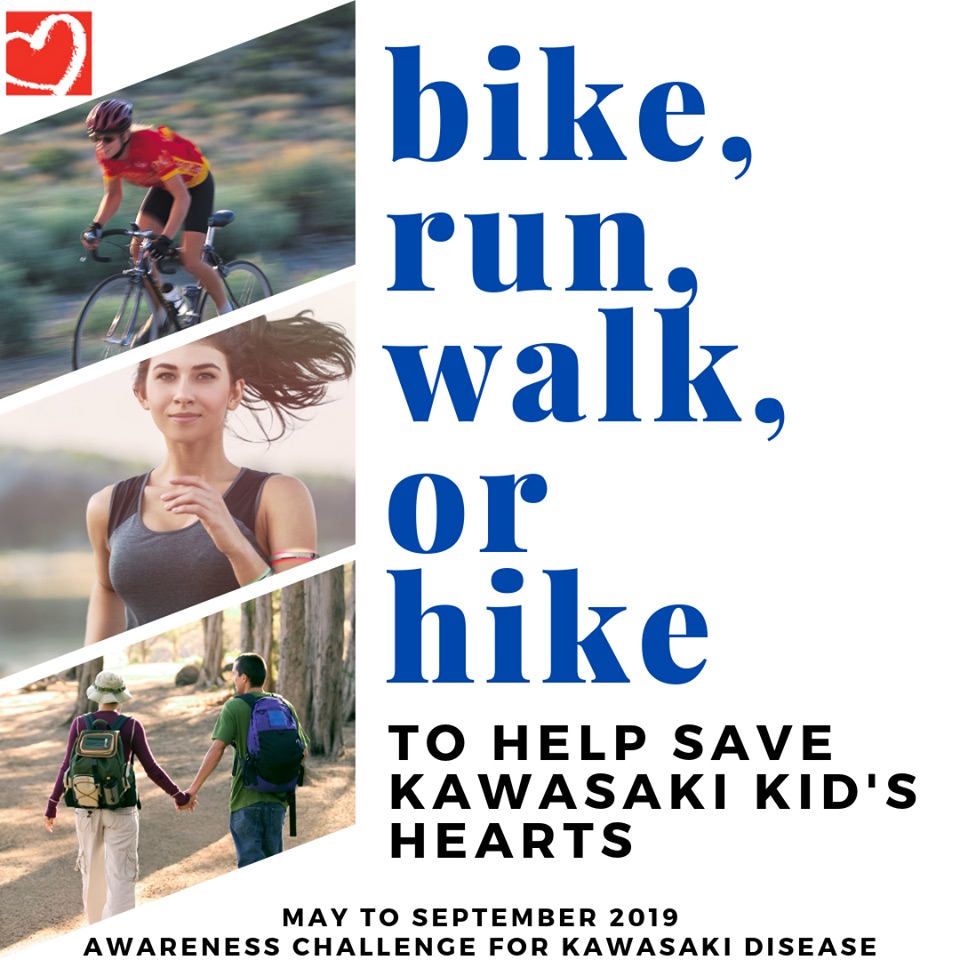 Get active this summer and raise awareness about Kawasaki Disease!
---
3 Easy Steps:
1. Create An Account
The first step is to register as a user on the KD Foundation website.
2. Become A Fundraiser
Once you are logged in, you can Become a Fundraiser.
Personalize your fundraising page: Tell people why this cause is close to your heart and why they should donate. Share your goal of how many miles you plan to bike, run, walk, or hike through September to raise awareness for Kawasaki Disease.
Set a fundraising goal: Make sure you set a fundraising goal on your profile page. Your friends will be more likely to sponsor you if they know you have a personal goal…and they'll help you achieve it.
3. Ask Everyone
Be sure to ask everyone you know to support your efforts to raise awareness about Kawasaki Disease! You never know who will sponsor you and donations can come from the most unlikely places.
---
Email Family & Friends
Use the Invite Your Friends option to email family and friends.
Share On Social
Share the link to your fundraising page on your social media channels throughout the summer and keep people updated about your fundraising goal.
You can use a third party app (like Strava or MapMyRide) to track your ride miles and share your progress with friends on social media.