Jenny Thornton's Kawasaki Disease Awareness Challenge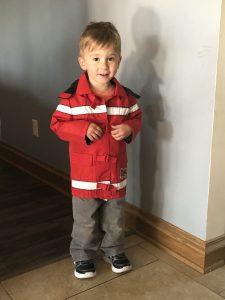 Challenge Type: Ride, run, walk, hike
Challenge Goal: 50 miles
Fundraising Goal: $500
Why I'm participating in the KDAC?
This is for my son Levi. At 6 months old, he was diagnosed with Kawasaki disease. He had the best treatment at Lurie Children's over the course of his 2 hospital stays. He continues with yearly cardiology appointments to monitor his heart and takes a daily baby aspirin. Before his diagnosis, I had never heard of KD and Levi went untreated for 11 days. I want to help spread awareness for KD so that others can get treatment quicker. We are also hopeful for a diagnosis of KD in the future. Levi is now a happy, stubborn, and healthy almost 3-year-old.
Madeline Thornton
Gotta Love Levi. Love Mom & Dad
Megan Maney
Auntie Meg and Uncle Stevie love you buddy!
Lindsay Hill-Batorski
Great cause! You are both doing an amazing job raising awareness. Your kiddos are lucky to have you! <3 Lindsay, Chad, and Rae

Widget not in any sidebars