Greg Thornton's Kawasaki Disease Awareness Challenge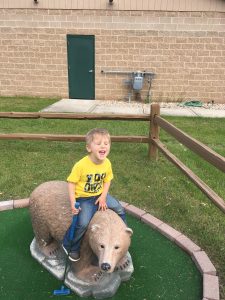 Challenge Type: Ride, run, walk, hike
Challenge Goal: 250 miles
Fundraising Goal: $500
Why I'm participating in the KDAC?
Our son was diagnosed with giant aneurysms after 11 days of KD. Everything resolved and tho we had a happy ending we will do anything to prevent even one family from going through that.
J
Jackie & Marc and Mr. & Mrs. Mangiantini
$50
Proud of your awareness efforts, and proud of Levi's strength! Love you all!
WT
JW
RS
JH
NG
LR
NM
CL
Love my bday boy and his family too 😘
NH
AC
LH
Lindsay Hill-Batorski
$25
Your stories are hard to read online, but you are reaching people. Keep up the good work and hug those kiddos for us!
<3
Lindsay, Chad… Read more
Your stories are hard to read online, but you are reaching people. Keep up the good work and hug those kiddos for us!
<3
Lindsay, Chad & Rae